HUNDREDS of new emoji are coming to your phone this year – including a very rude hand gesture.
A pinching motion that some people use to mean "small penis" is among 270 new emoji revealed today.

The big theme of this year's update is inclusion, with a number of physical disabilities now represented by cartoon characters.
Emoji now cover wheelchairs, mechanical arms and legs, sign language and even hearing aids.
There's also a bigger range of skin tones and relationship types in the latest update, with a bunch of new variants of the "people holding hands" emoji added.
Outside of humans, an orangutan, otter, flamingo and sloth have been added to the animal emoji at your disposal.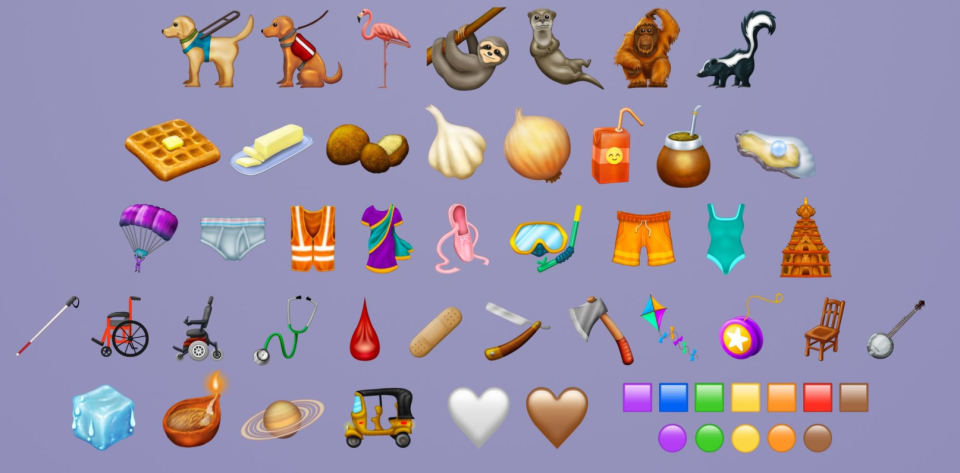 Circles and squares have also been given new colours, and the much-requested white heart is finally available.
The symbols are part of Unicode Emoji 12.0, a list of new emoji created by the Unicode Consortium.
It includes 59 distinct new emojis, which means there are 230 new emoji in total when gender and skin tone variations are taken into account.
Highlights include a pair of underpants, ice cube, ace, banjo. guide dogs, waffle and yawning emoji.
But it was one emoji in particular that turned emoji fans' heads.
It depicts what the Consortium calls a "pinching hand", but many people have suggested it will be used to suggest the size of a man's willy.

some of you petty women are going to love this new pinching hand emoji ? pic.twitter.com/mJ0vqKzwhq
"The pinching hand emoji will solely be used for small dicks," one Twitter user wrote.
Another said: "Maybe this upcoming emoji will be useful as a response to unsolicited dick pics."
The emoji additions will take a few months to show up on your phone.
The announcement merely shows what's on offer, and it's down to software providers like Apple, Google, Samsung, and Microsoft to design their own takes and add them to their rosters.
Enock Mugabi aka Eye Witness is a Journalist, Seasoned Writer and Music Analyst with a passion for sports.
Connect with him on social media using the links below in bio.