Bummy Muzzinyi Haffy Powers, a friend to Daphine Frankstock has come out and let the cat out of the bag.
Haffy revealed the secrets behind Comedian Patrick Idringi Salvador and Daphine Frankstock's relationship.

This comes after Daphine tied knots with her fiancée Patrick Idringi Salvador over the weekend in a lavish ceremony. Haffy says when Salvador had just started hitting on Daphine, she used to invite them for their dates as they went to watch him do his comedy.
"you would invite us along on your dates, so that we could watch his comedy, eat and drink for free and then you would tell us, we run before the comedy is done coz you never loved that ki man." Haffy says.
She adds that as time went on Daphine stopped inviting them only to find her expecting.
Below is a screenshot of Haffy's naration post;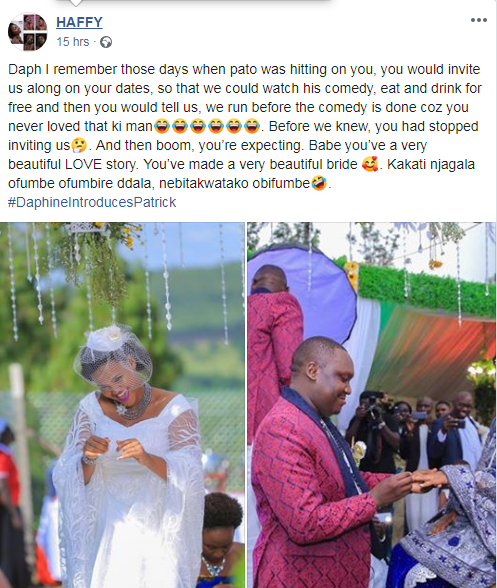 Enock Mugabi aka Eye Witness is a Journalist, Seasoned Writer and Music Analyst with a passion for sports.
Connect with him on social media using the links below in bio.