The number of frontline health workers positive with COVID-19 has increased to 646 as the Ministry of Health announces 30 new cases on Monday, June 8, 2020.
This is out of 3758 samples that were tested on Sunday, June 7, of these 154 samples from health workers and 4 came back positive for COVID 19.
This puts the total number of frontline health workers that have tested positive for COVID 19 at 22.
On Saturday,17 frontline health workers were confirmed to have the novel virus with 9 cases coming from Kampala.
Dr. Ataro Ayella, the vice president of the Uganda Medical Association attributes the increase in cases of health workers to minimal distribution of Personal Protective Equipment-PPE.
Dr. Ayella mentioned last week that Health workers in districts outside Kampala and neighboring places have no PPE.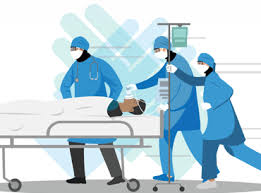 However, health ministry officials, say the country had a shortage of PPEs but orders were made and currently has stock to last three months.
Also tested on Sunday was 1, 876 samples from different points of entry, 1,728 samples from alerts, and contacts.
of the above,18 of the cases were from alerts and contacts of persons who have already tested positive, five were from truck drivers who entered the country through Elegu and Busia border posts, and three were of security personnel in Luweero district.
The majority of the community cases were from Kampala, Amuru, Tororo, Kyankwanzi, Wakiso, Kisoro, Buliisa, and Buikwe districts.
The ministry says all cases are Ugandans.