Kent and Flosso of voltage music surfaced at a time late Mowzey Radio and Weasel of the Gudlyfe were at their climax and the duos managed to record a song together with Mun G.
Voltage Music has since then not disappointed but since the death of Mowzey Radio in 2018, the Gudlyfe crew is no longer vibrant. Weasel hasn't had any hit song in a long time.
Voltage Music believes they have what it takes to replace Radio and Weasel in the music industry.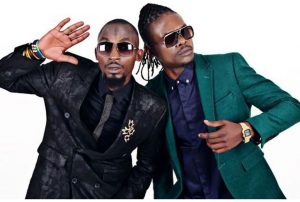 They believe Radio's talent is unmatched but with hard work, they will be a perfect replica of Goodlyfe crew. "We are great singers, we also replaced Radio and Weasel in this industry," one of them said during an interview.
The Goodlyfe crew started in 2007 and went ahead to break the unbeatable cycle of Bobi Wine, Bebe Cool and Jose Chameleone. This paved a way for urban musicians such as Eddy Kenzo, Big eye, and Aziz azion.
They released music that still sounds brand new to the present day.