Aine Kaguta the Mawogola North Mp candidate who pulled out of the race just hours ago has in a twist of events announced that he was forced to quit by his elder brother Yoweri Kaguta Museveni.
Speaking this afternoon at his constituency, Sodo revealed that it would be unreasonable for him to step down hours to the general elections after putting up such a fight.
He adds that Museveni ordered him to quit the race and he adhered for the sake of the family.
"Of course, I was forced, how can you pull out of the race just 1 day to the elections, so I tried to argue, so Muzei called about 30 people from Mawogola North, took them yesterday to him, they discussed and agreed that I should Step down and if I am to contest again, I should come back in 2026. The president is like my father, I didn't want to fight with him, I decided to Step down and agree with my family, the head of the family decides, for us, we call it a command, so he has decided that Sodo step down ."he noted
Sodo meanwhile says he has not stepped down for Shartsi Muserurure Kutessa and has declined to endorse her but instead asked his distressed voters to choose any other candidate of their choice.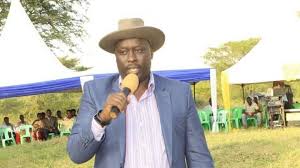 He has also disputed rumors that he was bought off by his brother Yoweri Museveni who is also the NRM chairperson.
"Of Course, there are rumors, they are saying that they bought me, the other camp of Shartsi are saying they bought me, It's not true, of course, there is no one who can, the competition was fearing, for me here am supporting president Museveni, let my voters vote anyone they want, on the other side of MP I was supporting myself but now it's their choice to decide on who to vote or not ,he added