The former Uganda Airlines chief executive officer, Cornwell Muleya has been arrested for refusing to divulge information to the Inspectorate of Government (IG).
On Tuesday afternoon, police picked up Muleya and has since charged him with disobeying the IGG's orders contrary to section 35 (a) of the Inspectorate of Government Act, 2002.
Muleya was supposed to furnish the office of the IG with relevant information in regard to mismanagement of public funds, procurements and recruitment of staff at the Uganda Airlines, which he failed to do.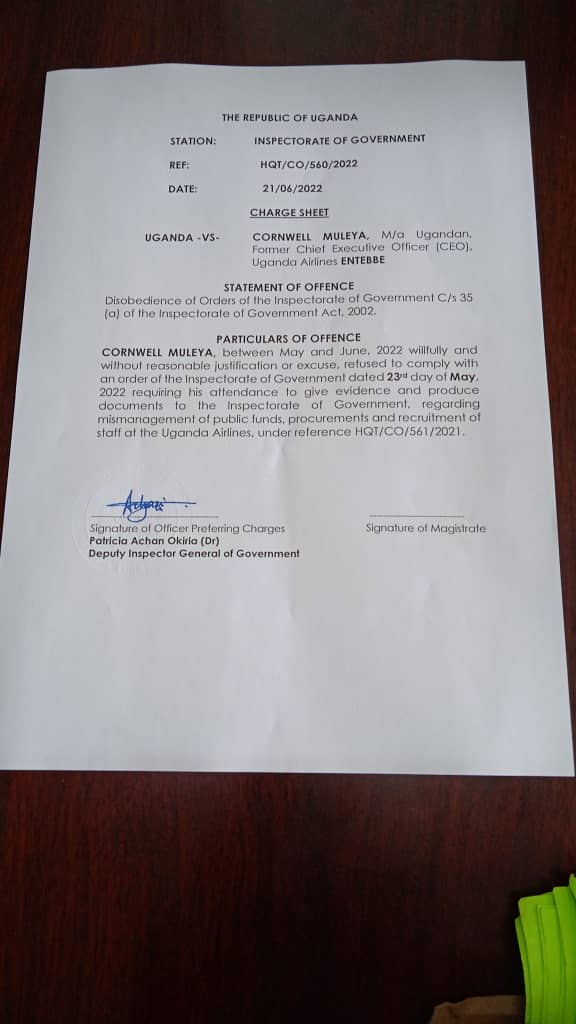 He is currently being held at the IG awaiting his appearance in the courts of law on Wednesday, June 22 according to a charge sheet authored by Patricia Achan Okiria, the Deputy IG.
Muleya was sacked as Chief Executive Officer at Uganda Airlines in April 2021, by the Minister of Works and Transport, Gen Edward Katumba Wamala. He was dismissed alongside other senior managers.
The group was reportedly flushed out on the orders of President Museveni to enable smooth investigations into allegations of financial mismanagement, collusion, and nepotism in staff recruitment among other issues.
Consequently, Muleya dragged the government to court seeking billions of shillings in compensation for wrongful termination of his contract.
However, Uganda Airlines did not appear on two consecutive occasions in court, scoring the case for disposal at the industrial court.