MTN Uganda has announced the appointment of Chief Community Officers (CCOs) to enhance its community engagement efforts. The CCOs will play a crucial role in offering a better understanding of the needs and aspirations of communities in Uganda, and ultimately help MTN in executing a needs-led strategy.
In line with the CCO initiative, the MTN Chief Marketing Officer, Somdev Sen, together with the General Manager – Sales & Distribution visited business communities in Jinja, where David Nsiyona was announced as Chief Community Officer for the Busoga area. This is part of MTN's commitment to connect and ensure that MTN services get to communities as they go about getting things done.
"We are excited to have the Chief Community Officers on board. They are our eyes and ears in the community as we strengthen our ties with the people we serve. We believe that by understanding the needs and aspirations of our customers, we will be able to better serve them and create an even greater
impact in their lives," commented Ms. Sylvia Mulinge, the MTN Uganda Chief Executive Officer.
"As we continue to grow and expand our services across Uganda, it is critical that we deepen our engagement with the communities we serve. The appointment of Chief Community Officers reflects our commitment to listening to our customers and developing strategies that help them to continue doing great things in their businesses, families, and community," she added.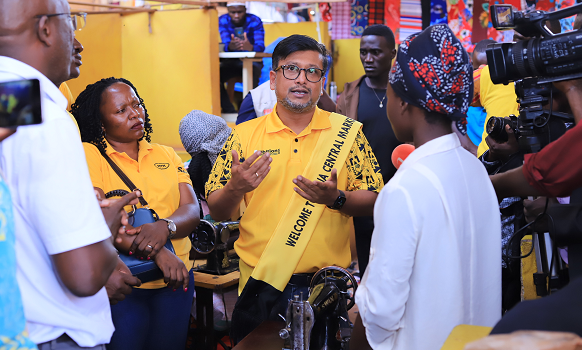 "By strengthening our relationships at the grass roots, MTN will be better positioned to create sustainable value for our customers and the communities where they live", Ms. Mulinge concluded.
On his part, David Nsiyona, who is also a distribution agent for MTN in the region, thanked MTN for the renewed focus on customers: "This is not the first time that MTN is coming to Busoga. They have always kept in touch with us and supported many initiatives in Busoga such as the Busoga Masaza Tournament and The MTN Busoga Kingdom Bicycle races that we had last year as well as refurbishing health centres and schools to improve the socioeconomic welfare of the people of Busoga. Therefore, what we are seeing today is simply an extension of their good will for their customers. I am indeed happy that MTN is taking its relationship with the people of Busoga to a higher level," Nsiyona said.
More CCO's will be appointed to cover the entire country.
The appointment of the CCOs is a reflection of MTN's continued efforts to build a culture of community engagement and drive its strategy from the ground up. MTN is committed to creating sustainable value for its customers and communities, and the CCOs will play a critical role in achieving this goal.
More about MTN Uganda – https://www.youtube.com/watch?v=qPHorda-27A&t=2s