Video: Sheebah & Kataleya do a Chameleone-Weasel kiss
Months after the Mayanja singing brothers Joseph (Chameleon) and Dauglas (Weasel) Mayanja passionately kissed each other, there is a video portraying female artistes: Sheebah Karungi and Kataleya (of Kataleya and Kandle duo) kissing. This, too, was caught on camera. Apparently, this was at a video premiere attended by strictly by the Queen's friends.
The Chameleon-Weasel incident caught fire with many describing it as disgusting.
In fact, a renowned city pastor Martin Ssempa vowed to drag Chameleone to police and demanded a public apology from him over the same deeds which he described as "indecent and morally offensive acts."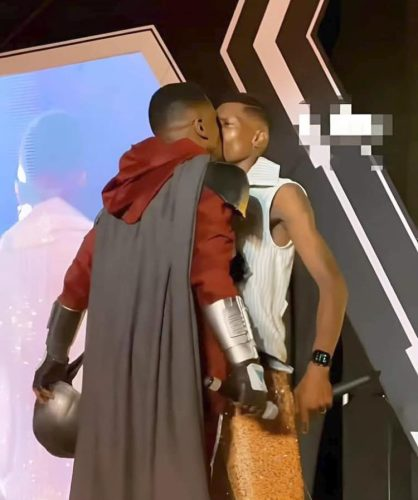 Against the above background, the Valu Valu singer apologized to his fan and followers.
"My sincere apologies to the general public. Weasel and I are brothers and family men. We were caught up in the heat of the moment. As African men, we respect African values and morals. The act is regrettable and should not have happened and will never happen again. On behalf of the Mayanja family, I kindly apologize," Chameleone wrote on his Facebook page on Tuesday, 28th February 2023.
Girl being girls, the Sheebah-Kataleya incident is yet to attract massive backlash. However, already, some bazzinyi are already accusing Sheebah of grabbing Kataleya from them (whatever that means!)
Watch video: https://www.youtube.com/watch?v=HWDRiTRg9cQ