Airtel Uganda under their Airtel Cares Program has today extended a donation of assorted food, household and personal effects items to Masulita Children's Home. The donation worth UGX55million was received by the Board Chairperson, Ms Olive Birungi Lumonya.
This is part of Airtel Uganda's Sustainability Agenda of Transforming Lives.
Commissioned in 1989, Masulita Children's Home, is a reception Centre for Children who are homeless and have been living on Kampala's streets. The Home is run by Uganda Women's Effort to Save Orphans (UWESO), a charity organization.
Airtel Uganda Managing Director manoj murali said "Today, we are pleased to extend Airtel 4G internet to this home with the aim of enhancing learning among the little ones as well as helping them connect to their peers across the globe."
He added "When we learnt about the important work that Masulita Children's Home was doing to provide a safe and nurturing environment, we knew that we had to get involved. We were inspired by their dedication to helping these children have a better life, and we wanted to be part of this great initiative."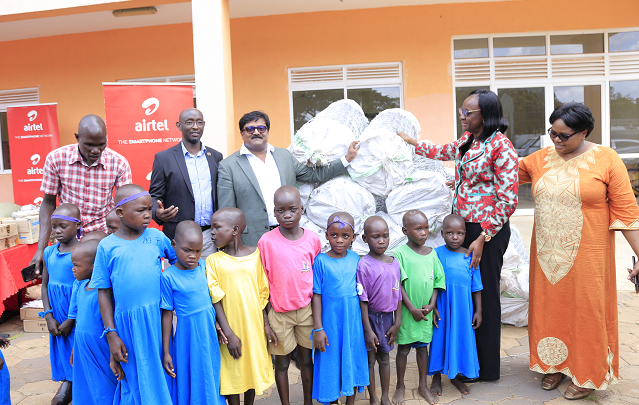 The assorted items extended include foodstuffs, scholastic materials, health essentials, and as well installed an internet connection to give the children a broader perspective on learning and acquiring skills.
While receiving the items on behalf of UWESO Ms Olive Birungi Lumonya appreciated Airtel Uganda for the support which will enhance the home's efficiency in day-to-day operations as well as uphold their vision of improving the quality of life of vulnerable children and youth for them to survive and thrive.
"At Airtel, we believe that children are the future leaders and we look at them as the next generation, and it is key that we identify collaborative opportunities with partners like Masulita Children's Home where we provide an opportunity for us to harness their potential and set their path for success," murali concluded.
The internet connection to Masulita Children's Home comes only a couple of days after Airtel announced its partnership with UNICEF to accelerate digital learning in Uganda and across Africa.
More about Airtel Uganda – https://www.youtube.com/watch?v=0RYSFdbtNkc