Suicide Bomber Is ADF
President Yoweri Museveni says the suspected suicide bomber arrested at a Pader guest house with explosive devices is attached to the Allied Democratic Forces -ADF rebels.
Katumba Abdul aka Ben was netted on Thursday afternoon at Mikicha Guest House along Canigula Road in Pader Town Council.
He had in his possession homemade bombs, bomb carrier bags, ball bearing, suicide vests, detonators, aluminum sulfate, wire cutters, switches, and a mobile phone used to detonate a bomb.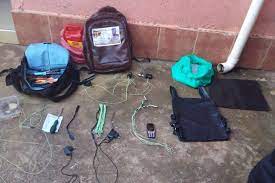 UPDF revealed that the suspect was arrested in a timely manner just before he attacked the funeral of the late DIGP Maj Gen Lokech.
Suicide Bomber Is ADF
UPDF Spokesperson Brig Gen Flavia Byekwaso says:"the suspect was in possession of nine home bomb-making materials, other accomplices in the heinous crime are still at large but have been positively identified and operations to apprehend them are underway "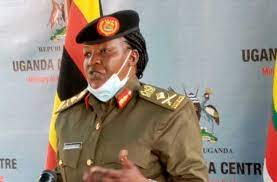 Now the Commander-in-chief of the armed forces Gen Museveni says Maj, Gen Lokech 's funeral was nearly attacked by the ADF rebels
'Museveni says ' the ADF had apparently sent a suicide bomber there in Pader to kill mourners, the main actor was arrested with materials for making Improvised Explosive Devices, the plans and orders for killing our people are coming from the Eastern DRC"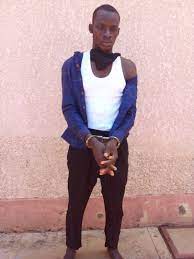 Museveni hailed Lockech for removing the vail on the rebel group and its operations in Uganda''Arresting some led to the identification of others, although the criminals used some shadow tactics like covering their heads, on account of Lokech's concentration, together with some of his colleagues like Ddamulira, some of the criminals were clearly identified and we went for some of them.
(ADF) rebel resurfaced in Uganda with accusations it attempted to assassinate Works minister, Gen Edward Katumba Wamala, in Kisaasi, a Kampala suburb.
Gen Katumba's daughter Brenda Nantongo and his driver Haruna Kayondo were killed in the same attack.
In an operation overseen by the late DIGP Paul Lokech,8 suspects connected to the rebel group have since been jailed in connection to the Katumba shooting and other high-profile murders within.
Previous high profile killings including that of Maj Muhammad Kiggundu in Masanafu, Kampala, on November 26, 2016; former police spokesperson Andrew Felix Kaweesi in Kulumbiro, on the outskirts of Kampala, on March 17, 2017; Assistant Director of Public Prosecution Joan Kagezi, and those of at least seven Muslim clerics have all been blamed on the ADF.
President Museveni while at the Kololo Independence Grounds recently to preside over the swearing-in of his Cabinet said the gov't was overcoming the rebels. "rural terrorists like the Kony rebels in northern Uganda and the ADF in the Rwenzori".
About ADF
Among the most notorious groups now operating in the East and Central African region is Uganda's Allied Democratic Forces (ADF).
The Islamist militant outfit was formed in the 1990s, in northern Uganda by former military officers loyal to former strongman Idi Amin.
It fought against President, Yoweri Museveni, alleging government persecution of Muslims and primarily concerned itself with domestic grievances within Uganda.
After its defeat by the Ugandan army in 2001, it relocated to North Kivu province in DR Congo.
But after re-emerging in DR Congo, in 2014, it has launched a series of attacks on Congolese civilians.
Its activity has taken on a more global jihadist dimension, with attacks increasingly being claimed in the name of the Islamic State (IS) group.