Over the weekend, music fans witnessed drama when Team No Sleep (TNS) singer, Diamond Oscar clashed with a DJ while performing on stage at a certain show.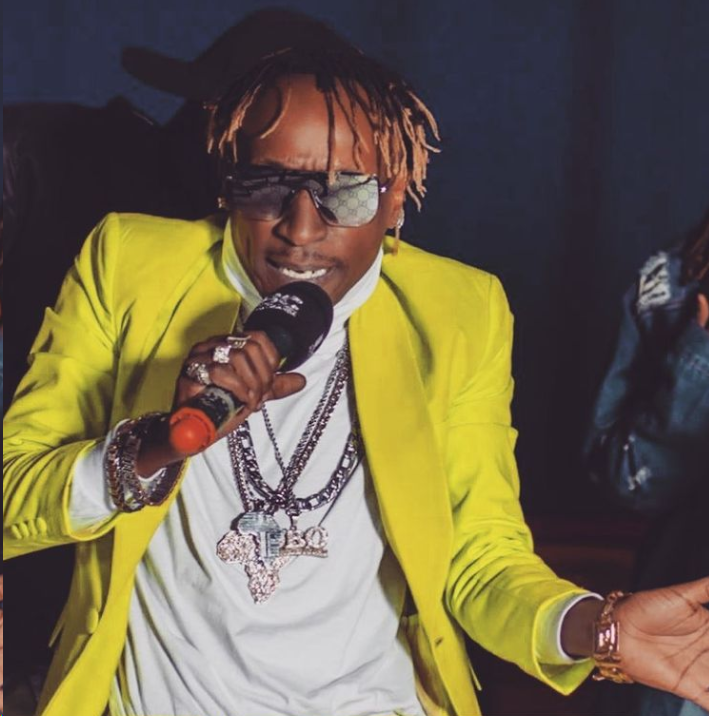 It all started when the DJ ordered Diamond Oscar to step off the stage, midway through his performance. Apparently, Diamond, who has taken ages to release a hit song, failed to impress and fire up the crowd when he was given a chance to show what he got, prompting the main DJ of the event to ask him to slide off the stage, something the self-proclaimed Bling Bling Master couldn't stomach. Bling Bling Master took this for Zalawo!
Visibly angered, he refused to kowtow and instead spat venom in a vibrant rant, calling out the DJ to dare come closer to him and taste his wrath!
READ ALSO: TNS's Pinky pokes Sheebah in new song on 6-Track EP, 'SevenTeen'
To demonstrate his anger and how determined he was, Diamond went on to get ride of the expensive outfits he was donning live on stage, amidst cheers from the crowd.
The dreadlocked singer first removed his light green cap and coat, followed by the black T-shirt, in the process, exposing his skinny muscles. Only the navy blue shorts, sneakers and sunglasses survived on his skin as he threatened and demanded respect, in broken Queen's Language.
"Respect the artists, I am a big brand sir. Been doing this for years and you want to humiliate me? I am Diamond Oscar, Bling Bling Master," he raged for about four minutes, ordering the same DJ to play his latest release, 'Baawa'.
WATCH
Enock Mugabi aka iWitness is a Journalist, Seasoned Writer and Music Analyst with a passion for sports.
Connect with him on social media using the links below in bio.