In a thrilling encounter, 10-man Gulu City emerged victorious over Nwoya District to lift the Odilo Ker Football Tournament trophy. The match saw a tightly contested first half, which ended goalless, with Nwoya District showcasing their skills dominated by Young Elephants Football Club players. However, Gulu City went down to 10 men in the second half, after one of their players was booked twice.
Despite this setback, Coach Richard Odong brought on Aaron Okot, who proved to be the hero of the match, scoring a brace to help Gulu City clinch the trophy of the first-ever football tournament organized by Acholi Cultural Institution, Ker Kwaro Acholi, and sponsored by MTN Uganda.
In the women's category, Gulu City also emerged triumphant, beating Agago 4-0 in a match played earlier on Sunday afternoon.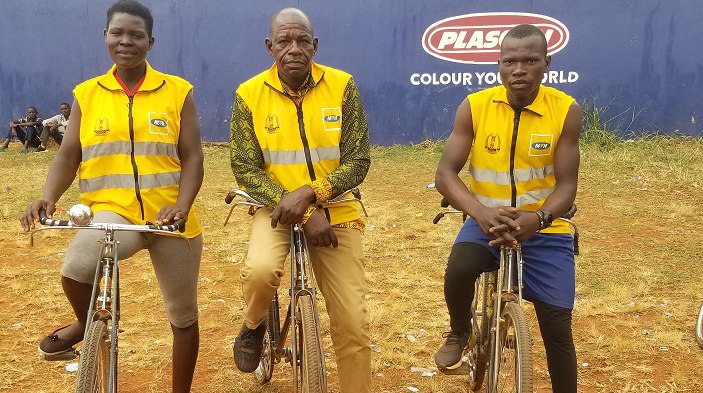 Both winners took home a cash prize of 4 million shillings, a gold medal, and a trophy, while the runners-up received 2 million shillings and a silver medal.
The bicycle race was also a closely contested affair, with Omoro District emerging as the overall winners. Emmanuel Oola and Harriet Aunu, both from the same family in Bobi Sub County, were crowned champions taking home a grand prize of UGX 1,000,000 each, while Joyce Acan and Walter Orach finished as runners-up were awarded a worthy prize of UGX 500,000 each for their impressive performance.
Phillips Odoi, MTN Uganda's Northern Region Business Manager, was in attendance, and congratulated the champions in both categories, saying that their hard work, dedication, and perseverance were truly inspiring.
Odoi went on to emphasize the importance of education in shaping the youth's future, saying that teenage pregnancy should not be an option. He added that the youth have the power to shape their destinies and that society must do all it can to provide them with the tools and opportunities to succeed.
MTN Uganda has had a long-standing partnership with Ker Kwaro Acholi, with the two organizations collaborating to uplift the socio-cultural welfare of the people in the Acholi sub-region through joint health, education, and sports initiatives.
Through this partnership, MTN Uganda has undertaken numerous initiatives in health and education in the Acholi sub-region, including refurbishing and kitting the Cwero Health Center III Maternity ward and constructing a classroom block at Kuc Ki Gen PEAS high school in Lamwo.
More about MTN Uganda – https://www.youtube.com/watch?v=k2Hc1Sd-TAQ