It is difficult to assess the evolution of the film industry in Uganda without looking at the journey of television.
For a long time (over three decades), television in Uganda was a monopoly of the government. Uganda had only one Television station – Uganda Television (UTV) – until 1999 when the first privately owned TV station, Wavah Broadcasting Corporation (WBS TV), launched.
Now, there are about 70 licensed TV stations.
It can be argued that the limited number of players in the TV space slowed not just the growth but also the quality of film production. In the advanced markets like U.S., media companies invest a lot into film and TV production.
Whereas Ugandan storytellers were willing to tell stories, there was limited demand in terms of where their films would be showcased. Considering the blow that political turmoil, economic strife and a suppressed freedom of expression, had dealt on the arts industry.
WBS TV opened the way for more private investment in Uganda's media landscape. But not only did it do that, it opened the Ugandan audience's eyes to entertainment on the international scene.
Today, the film ('kina Uganda' as it is often referred as) has come of age. The quality of the output has tremendously improved, be it plots, cinematography, sound and editing. So is the kind of equipment used and the people who have attained professional training in filmmaking.
And the fruits of this are visible. In 2022, Tembele was pre-selected for the Oscars becoming Uganda's first ever film to be considered for an Academy Award. Similarly, on the African continent, the recognition of Ugandan works keeps getting better.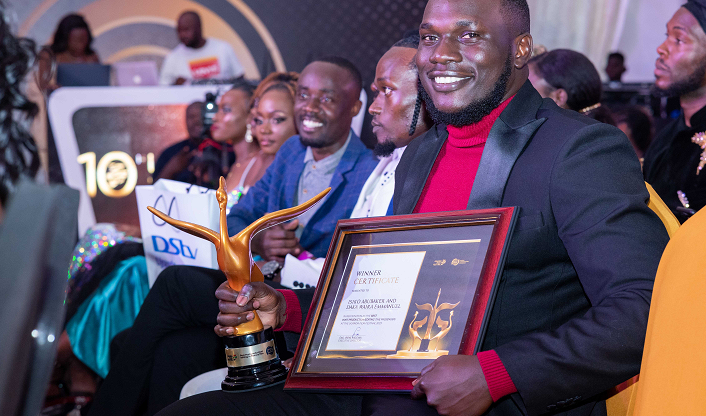 This year, Uganda got the highest nominations it has ever got in the Africa Magic Viewers' Choice Awards (AMVCAs) which are considered to be 'the African Oscars'. Ugandan stories and storytellers got 17 nominations across several categories including Best Director and Best Overall Film Africa.
Every era has its heroes. Those that trailblaze and lead a new revolution. In the early 1990s, that trailblazer was lawyer John Katende who at the time had begun to reveal the artsy side of him.
It was his creativity and leadership that had in 1993 birthed That's Life Mwatu considered Uganda's first TV drama. Katende (as John W.K Sembajwe) produced, wrote and directed the musical drama which gave Uganda its first TV celebrities – Paul Katende (Dr Dick), Harriet Nalubwama (Nakawunde), Rose Kamya (Vicky), and Sam Bagenda(Dr Bbosa).
Still, it was Katende that started VCL Studios, the production house which did all the filming and editing works on That's Life Mwatu. Over the years, VCL has played a significant role in Uganda's audiovisual production whether it is film, TV, documentaries, commercials and music videos.
Nowadays, the picture quality, sound and editing of Ugandan productions is not what it was in That's Life Mwatu, Bibaawo or on productions like Feelings Struggle (Ashraf Ssemwogerere), Divizionz (Donald Mugisha), Fate (Cindy Magara) and Battle of the Souls (Matt Bish), the works that pioneered the feature film format in Uganda.
Anyone who got the opportunity to attend screenings of local films during the recently concluded 2023 Uganda Film Festival (UFF) can attest to the fact that Ugandan stories are now being told in a more compelling and nuanced way.
A good example would be Nambi, a reimagined story of the popular Buganda folktale, which employs VFX (visual effects) using CGI, Compositing and Motion Capture. It represents how through film, the future and the past can coexist.
Today, young creators like Loukman Ali (producer and director), Raymond Malinga (animator), Andrew Ahuura (audio engineer), Ashraf Mulima (producer and animator) and Peter Mukiibi (director) symbolize what the future holds for the motion picture and that Uganda can have a seat on that creative table.
Technological advancement, the advent of the internet, increased investment in local content, government regulation and competition in the TV space have all contributed to the quality we now see on the screen.
And players like MultiChoice, the Pay-Tv company that operates DStv and GOtv have leveraged all these factors to achieve their objective – telling the Ugandan story. On top of Pay-tv deliberately spending on content acquisition by creating three channels (Pearl Magic, Pearl Magic Prime and Pearl Magic Loko) that are completely dedicated to Ugandan content.
Initially, filmmakers did films out of passion. But very few of them lacked the professional skills that their peers in Hollywood possessed. And this affected the output. Today, programs such as the MultiChoice Talent Factory (MTF) have churned out film and TV talent in cinematography, editing, audio production and storytelling.
The industry also seems to acknowledge that such training should not be occasional but rather continuous. That is important because it is the only sure way to continuously nurture the next generation of Ugandan filmmakers and to create more opportunities for local talent.
As part of this year's Uganda Film Festival, the Uganda Communications Commission held Regional Film Competitions across Uganda to recognize and reward outstanding filmmakers.
It is a good time to be in the content creation business. Content is the new gold. With the big spenders now all setting their eyes on Africa and an exposed audience that is particular about their preferences, the prospects in terms of quality of Ugandan film have never been better.
More in Uganda – https://www.youtube.com/watch?v=2xOOSkjCTaM