Do you know the mothers who passed through the pain and blessed us with talented musicians/ celebrities that have entertained, made you dance, sensitize and raised our Ugandan flag through the years?
Well we feel there is a need to unveil to you these special and lucky mothers who gave birth to these superstars just to appreciate them.
Checkout the list and the pics below;
King Saha;
Professionally started  his music career with producer Didi under Didi's label "born fire". After struggling to break through, he was spotted by Chameleone and recruited him under his Leone Island Music Empire. After Five years of Chamili's mentor-ship, Saha opted for a soul career in around 2014-15 and the rest is history! Below is a pic of him with his mum.
Karole Kasita;
Ragga dancehall female star Karole Kasita is new in the game but has become a force to reckon with in the music industry. She is currently single but apparently swallowing someone's cassava. She resembles her mum from head to toe.
Anatalia Oze;
She currents works with NBS TV. She and Zahara Totto have become most talked about Lugambo queens. Anatalia says she does all that just to make her mum proud and honestly she is achieving her dream.
Madrat And Chiko;
One the impressive comedy duo we have in the country. Madrat and Chiko complement each other very well. One might that they are blood brothers. According close pals, even their mothers are friends.
Faridah Nakazibwe;
She is one of the most respected and loved Luganda news anchors in the country. Faridah currently works with NTV. She truly her mum's photocopy.
Grenade Official;
Much has been said about Grenade Official. He has been nicknamed Basajja Mivule, Kafumisi and all those funny names due to his unbeatable love for old and tired sumbies but hey! wait a minute, dude has a mum too. Grenade has hustled from streets to where he is now, so he deserve some respect on his name.
Zari The Boss Lady;
She is one of the high budgeted socialite East Africa has ever witnessed. Very strong, unique, inspirational, role model, influential, hard working and top of that with a big following on social media. She must have learnt skills from her late mum who died in 2017.
Chosen Becky;
'Nze Mama yankuza'- she blew her own trumpet in one of her break through love songs. Chosen heaps praises on her mum for being there for her without trying. Well does she resemble her mum when you look at the pic below?
Spice Diana;
Her mum is still young and health in the pic below. She recently sent a warning to horny guys who want to bonk her daughter on credit to take caution.
Chameleone, Weasel, Pallaso and the late AK47;
She did not only give birth to one of the Africa's out standing legends but to the singing Mayanja. God truly blessed her, sikyo?
Bebe Cool;
He says he grew up with a single mother through out childhood. His mum now leaves in US. Bebe flies out so often to meet her.
Sheebah;
The smile on Sheebah Karungi's face says it all. She is a certified hustler who has made her mum super proud. Sheebah proudly says she was raised by a single mum too which made her grow a thick skin and very hard working.
David Lutalo;
He always flaunts his mum on every music concert her stages. Born and raised in Luweero, Lutalo made it a point to fight for his mum's dignity and well being.
Bobi Wine, Eddy Yawe, Banjo Man, Mikie Wine and Dax Vibe;
Their mother would be super proud now about his sons but unfortunately he died when they were still sketching.
Gravity Omutujju;
Just like most musicians do, Gravity also flaunts his mom mostly on concerts. They look alike indeed!
Fik Fameica;
Fik's mom also first made her first public appearance at his mini- concert at Freedom City in 2018.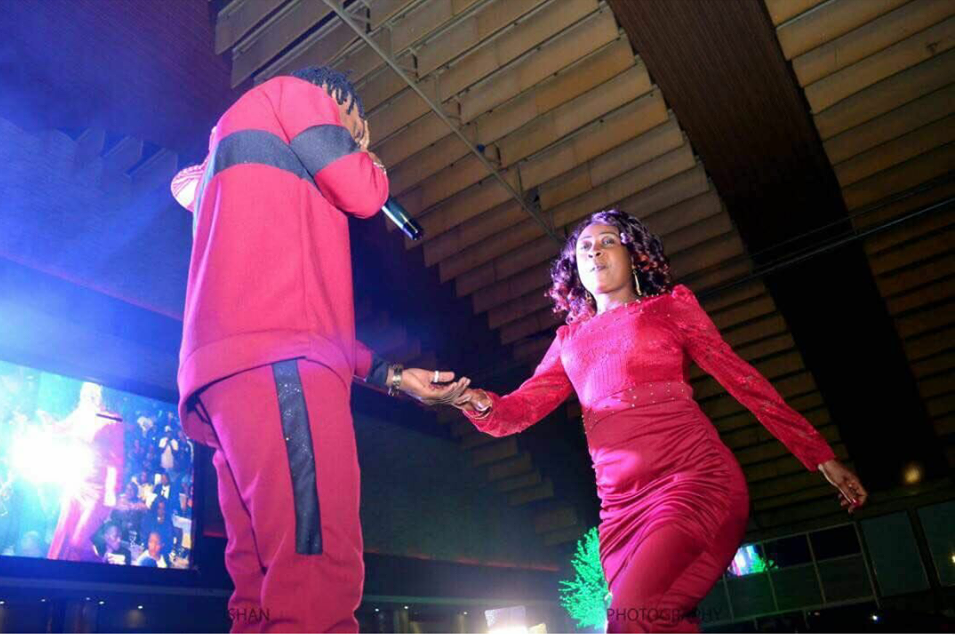 Sheilah Gashumba;
Her dad claims to have raised Sheilah single-handedly since he broke up with the wife when Lil stunner was still a baby.
Bruno K
Vocalist, Bruno K called his mother, his only love. Very special.
LUCKY MBABAZI
The radio personality blessed all mothers with a long healthy life
Lydia Jazmine
Her mother is a shoulder to lean on, a secret box and a defender. She owes her the whole world.
Big Tril
Big Tril mentions to his mother than she is the strongest person in the world. His superhero.
Enock Mugabi aka Eye Witness is a Journalist, Seasoned Writer and Music Analyst with a passion for sports.
Connect with him on social media using the links below in bio.