Museveni blocks Lt. Gen Kainerugaba's resignation The commander in Chief of the Defence Forces President Yoweri Museveni has stopped his son Lt Gen Muhoozi Kainerugaba from quitting the Uganda People's Defence Forces.
This comes after the First son and Commander of the Land Forces Gen. Kainerugaba shocked the public with a brief tweet announcing his resignation from the army after 28 years of service. Gen Kainerugaba declined to divulge reasons for his sudden departure, drawing mixed reactions from the public.
The tweet reads; "After 28 years of service in my glorious military, the greatest military in the world, I am happy to announce my retirement. Me and my soldiers have achieved so much! I have only love and respect for all those great men and women that achieve greatness for Uganda everyday." he said
However, sources privy to Galaxy FM reveal that Gen Kainerugaba will not quit the army after-all, because Museveni doesn't agree with his decision. They allege that a phone call denying him the opportunity.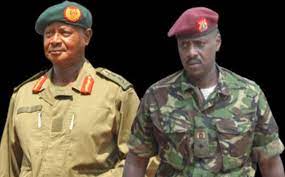 It should be noted that for one to retire from the military, they must first officially tender in their written resignation to the Commissions and Promotions Board for approval. This is stipulated under the UPDF Act 2005
"An officer may in writing tender the resignation of his or her commission to the board but shall not, unless otherwise ordered by the Chief of Defence Forces, be relieved of the duties of his or her appointment until he or she has received notification, in writing, of the approval of his or her resignation by the board," reads section 66 (1) of the Act.
Meanwhile sources at the Commission claim the army General has neither written nor tendered in his resignation, implying that he remains a serving officer until otherwise. "The board will consider a formal application,his twitter message was declined by the Commander in Chief of the armed forces," says an anonymous source Museveni blocks Lt. Gen Kainerugaba's resignation Muhoozi has previously served as the commander of the Special Forces Command (SFC). In 2017 Muhoozi, the son of president Museveni, was appointed Presidential Adviser, fueling speculations he is being prepared for the presidency.
He was reappointed as the Commander of the elite Special Forces Command (SFC) in December 2020. Lt. Gen. Muhoozi served in the same position from 2008 to 2017.
Kainerugaba was born on 24 April 1974 in Tanzania.  He has attended the Egyptian Military Academy for company and battalion command course, the Kalama Armoured Warfare Training School, in Kabamba, Mubende District and in 2007 he joined the United States Army Command and General Staff College at Fort Leavenworth, Kansas from where he graduated in 2008.
Museveni promoted Kainerugaba to the rank of Major General in May 2016 and three years later, he promoted him to the rank of Lieutenant General, the second highest rank in the Ugandan army.